So we've lived in our house for almost five years.  Wait…scratch that….six years.  (wow…six???)  We bought it less than a year after we graduated from college though neither Jim nor I were particularly in love with it:  pink exterior, 1980′s fixtures, floral wallpaper, brown berber carpet, and the list goes on. But it was in a good location, had a big backyard, and met our fresh-out-of-college budget. Aaaaand I had been watching quite a bit of HGTV and might have been overly-confident in my DIY home improvement skills. 
We took care of the super ugly stuff right away.  The floral wallpaper and butterfly kitchen backsplash were the first to go.  Replaced the carpet in the bathroom (seriously?) with tile.  Some things have waited a bit longer. You might remember last year we made some improvements to the kitchen.  This year we almost moved to the other side of Longmont and then decided to stay.  After we committed to staying, we started a new round of projects (finally pulled out the u.g.l.y carpet and put in new flooring. All by ourselves.). Don't ask why we started in the summer, in the midst of a very busy wedding and portrait season, because I can't explain it myself.  Towards the middle of September when it had been a work-in-progress/construction zone for over a month I was starting to think it might have been a bad idea. But now that it's over I'm  happy we did it. :)
We started first with James and Colin's playroom, which was ALWAYS a mess.  You see–it was a playroom, filled with toys and books, but they spent most of their time working on something crafty–cutting, coloring, gluing, folding, painting, drawing, making books, writing cards, creating sweet little gifts, etc. etc. etc.  But it wasn't really a room set up for art projects.  So we transformed their playroom into a little arts-and-crafts room:

*note on the "before" photo.  I don't have a lot of photos of this room, as I have always tried to avoid it with my camera.  I took this photo when we were getting ready to put our house on the market.  (and then didn't).  Normally it was tons messier than this, but of course that's not what we wanted to show potential buyers.  The photo below (from 2010) might give you a rough idea of it's more typical appearance: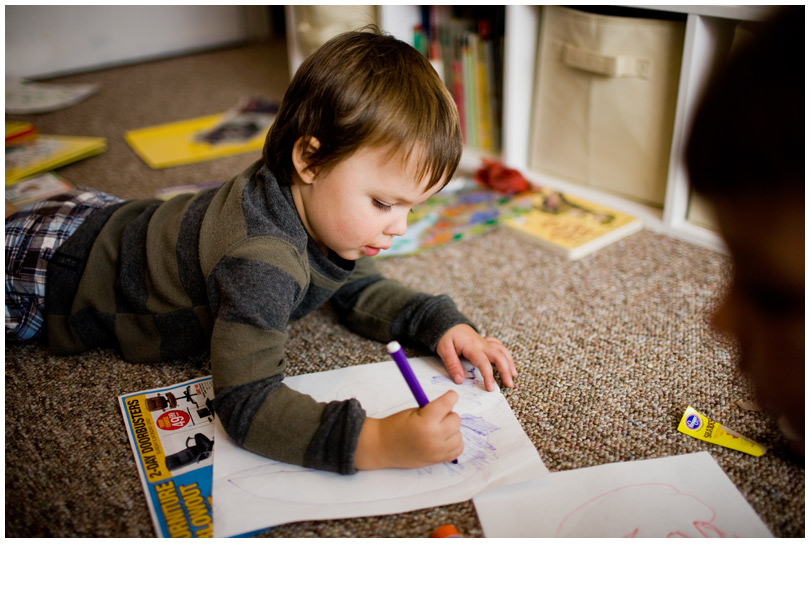 So anyway, back to the "after"…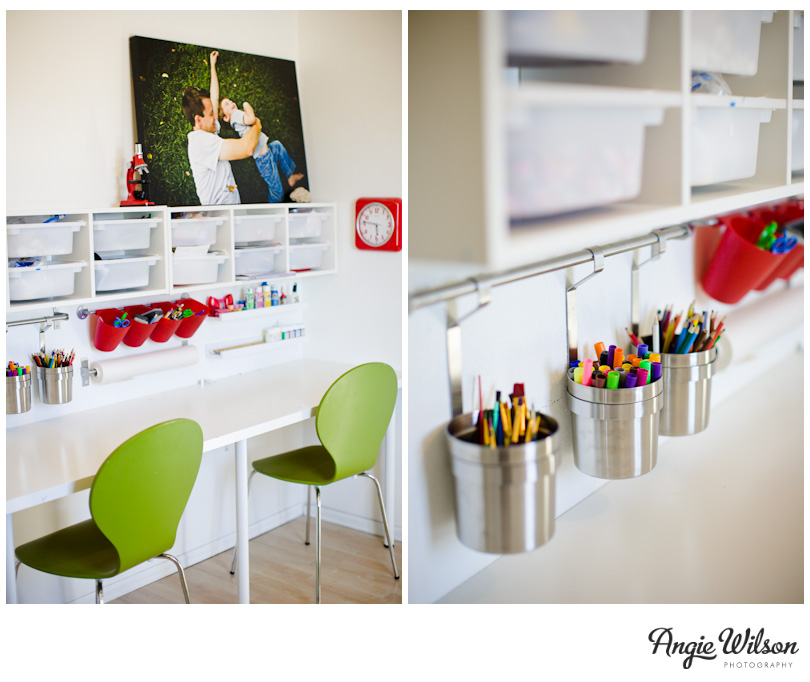 Yay for organization!  We made them a big desk, and on the wall hung every art supply they could ever want.  Within close reach are scissors, paintbrushes, makers, colored pencils, paints and a big roll of paper.  Higher up on the wall are cubbies with more of the good stuff–beads, shells, pipe cleaners, oil pastels, crayons, clay, paper, chalk, etc.  Is there anyone out there more excited than me that Ikea finally opened up in Denver???  
And then there's the U.S. chalkboard.  I made it, and I'm kinda proud of myself:
Not too difficult of a project, actually. With the help of my Suburban-driving friend (thanks Danica!) I picked up a ginormous sheet of (plywood???) from Home Depot, drew the U.S. outline onto it, carved it out with a jigsaw, sanded the edges, and then put on a few coats of chalkboard paint.
So there it is!  Maybe someday I'll show you what we did to the stairs, entryway and my pinterest-inspired dining room wall art. :)